Your ass is my target.Id love to stuff ur sexy holes with my friends.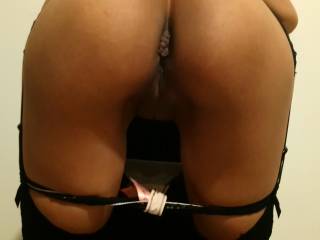 Mmmmmy favorite one position! I'm gonna grab that hot ass with my hands and start to lick gentle and hard rubbing up/down through your ass gap - your pussy and asshole, playing with clit, eat it all your sweet pussy, continue do tongue fuck and fingering your holes. Make your pussy very hungry to feed her deep fulfilled with my big very hard cock. 
I'm gonna drive you crazy and make you very wild.
You gonna groan, moan, roar, scream.
I'd (I'll) kneel and fixing your legs with mine or climb on your sweet hot ass, start teasing your ass and pussy rubbing up/down through your ass gap with dickhead of my big hard cock in my hand, then start to ride and drill you - first tease your holes with my dickhead do rubbing circles then slide shallow dickhead only, then stinging you in/out (pull your hair back, nibble your shoulders and neck), then ramming and drilling deep fulfilled you deep inside. That will gonna be a wild ride. I'm greedy so I'd want all your pretty holes to myself. I'd fuck your pussy while thumb fucking your bumhole until I shoot my load deep inside you. If you want I could pull out so I cum in your arse or maybe into your pretty mouth. I will take any hole you wish. And I'd be happy to do so by myself, or share your hot body with other lucky guys. "As the Lady desires" Wow. Werde gerne dich in beide Löcher ficken und voll spritzen . Mehrmals . I would love to cum in each of your holes and let you suck me off in between.